Who we are
The AIRPOXY consortium consists of 11 partners from 6 European countries, with different backgrounds and company profiles who will collaborate intensively ensuring innovative approaches and results during AIRPOXY. Click on the partner logos below for more details on the partner organisations.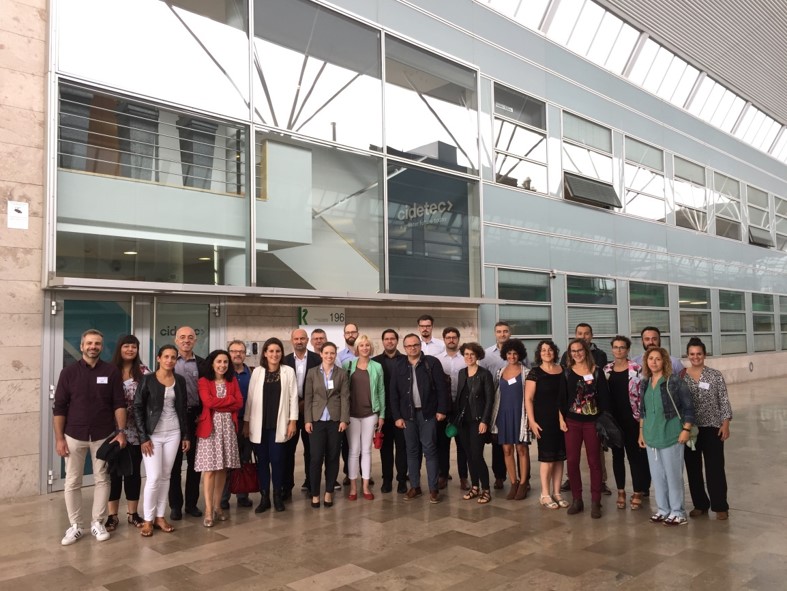 Fundacion CIDETEC
CIDETEC is a private, non-profit organization for applied research that integrates three international reference institutes in the fields of energy storage, surface engineering and nanomedicine.  Cidetec has developed a novel dynamic epoxy resin based on already existing commercial components called "3R", with Re-processability, Reparability and Recyclability properties, combining in this way the advantages of thermoset and thermoplastic resins. 
Expectations in AIRPOXY:
The formulation of the resin will be adapted and optimised for aeronautical sector to fulfil the environmental, mechanical and temperature requirements coming from end users
Role in AIRPOXY:
CIDETEC is the coordinator of the AIRPOXY project. In addition, CIDETEC is in charge of several key technical tasks and activities, including:
Formulation of 3R resins for aerospace composites

Formulation of 3R adhesives for aerospace applications

Fabrication and characterization of 3R aerospace composites

Development of the 3R adhesive bonding process

Support industrial partners regarding 3R technology
INSTITUT FUER VERBUNDWERKSTOFFE GMBH
IVW is a non-profit organization, located on the campus of the technical university of Kaiserslautern (TUK). It develops technical applications of composites and provides material, process, and product development up to the support of pilot series. IVW transfers its findings and expertise to the industry and – if not confidential – to the education of engineers at the University of Kaiserslautern as well as to the scientific public.
COEXPAIR SA
COEXPAIR is a 12 years company, it counts today more than 20 people, including 12 engineers. It covers European and Middle East market and is implanted in Belgium. COEXPAIR's technologies are RTM and SQRTM. And many development platforms are handled by COEXPAIR: Catia v5, 2 presses, plate tools, RTM advanced sensors,…
Expectations in AIRPOXY:
New generation materials
New composite structures combining thermoset properties with thermoplastics processability
New joining processes (i.e. welding, adhesive bonding)
New repair methodologies for typical damages (delamination…)
Recycling capacity
FUNDACIO EURECAT
The main Research and Technology (RTO) centre of EURECAT is located in Catalonia and the second largest private research organization in Southern Europe. EURECAT is involved in 90 EU projects, of which 31 are coordinated by EURECAT. Industrial, digital and biotechnological areas are the main fields where EURECAT is involved.
Expectations in AIRPOXY:
To increase and enhance the capabilities for the assessment of innovative composite materials
To acquire new knowledge related to the potential innovative benefits
To increase the knowledge in the composite part development by RTM
To acquire new knowledge in bonding technologies by adhesive and bonding
EIRE COMPOSITES TEORANTA
ÉireComposites is an innovative design, manufacturing and testing company, involved in lightweight, high performance fibre-reinforced composite materials, with an international blue-chip customer base of over 70 companies in aerospace, wind energy, marine, Formula 1 racing and general automotive sectors. The company is delivering composite components and assemblies for international aerospace programmes, and participates in important European Union R&D programmes in the aerospace sector.
Expectations in AIRPOXY:
To do OOA processing of advanced 3R composites (R1, R2, R7)
To do testing of advanced 3R composite material
To do thermal welding (R4) of advanced composite materials made using the 3R resin
To do 3R repair methods (R5)
INGENIERIA Y DESARROLLOS EN COMPOSITE S.L.
IDEC, after 20 years of evolution, is positioned as a key reference in providing the market with complete solutions in the field of out of autoclave advanced composites.
Design, validation, development, prototyping, industrialization; these are our strengths to satisfy our clients.
Expectations in AIRPOXY:
To develop an industrrial process with the 3R resin that make the company more competitive by means of :
Reduction of manufacturing costs
Reduction of scraps thanks to reparability of defective parts
SOCIETE NATIONALE DE CONSTRUCTION AEROSPATIALE SONACA SA
SONACA Groups is a main global player in Aerostructures and have more than 80 years experience of airframes Development & Manufacturing. SONACA keeps investing in innovative programs from new mechanisms to new manufacturing processes.
Expectations in AIRPOXY:
To find the technological breakthrough that will permit to combine the welding benefits of thermoplastic with the performance of the thermoset materials.
PANEPISTIMIO IOANNINON
The Composite & Smart Materials Laboratory (CSML) is part of the Mechanics and NDE Division of the Department of Materials Science and Engineering (DMSE), University of Ioannina.
Expectations in AIRPOXY:
To implement SHM technologies for the detection of in service damage and evaluation of the damage tolerance
To enrich CSML database with additional materials degradation scenarii and to develop the suitable damage metrics for knowledge based adaptive control
To perform inter-evaluation and benchmarking of the produced composites throughout the manufacturing, operation, bonding & repair under various mechanical loadings
ALTAIR ENGINEERING FRANCE SARL
Altair Engineering is a private company with more than 30 years of experience in the fields of the product design, engineering software and the " grid computing " technology.
Altair develops a technology which facilitates the analysis, the management and the visualization of the technical and administrative data, improving the capacity of innovation and the decision-making for its customers.
Expectations in AIRPOXY:
To provide new solutions in this field for the customers
To improve the thermoforming simulation to be addressed to new customers of 3R composite
ARTTIC SAS
ARTTIC is managing large scale RDI projects, including more than 400 large RDI projects and networks in EC framework programmes 2 to Horizon 2020. ARTTIC is the partner to ensure that large collaborative RDI projects are set up and managed to success in a professional, efficient and neutral way. Founded in Paris in 1987, today ARTTIC is a company of the PNO Consultants group, the European leader for consultancy in innovation and funding.
Expectations in AIRPOXY:
Support dissemination and communication activities
Monitor the data and IPR management
Provide adapted tools to the AIRPOXY consortium
Maintain a good collaboration between all the partners and all along the project
ASOCIACION ESPANOLA DE NORMALIZACION
UNE is a non profit, private and independent organization. UNE is an official National Standardization Body since 1986 and is involved in various sectors: electrotechincal, non-electrotechnical, ICT.
Expectations in AIRPOXY:
Raise awareness of AIRPOXY partners about standards and standardization.
Support you on generating new standards that can help disseminate and exploit the results of the project to market.