Work Plan Structure
To facilitate the work in AIRPOXY, the project contains 8 work packages (WPs). The work packages are subdivided in tasks.
The figure below shows the structure of the project and the interdependencies of the WPs as well as the partners responsible for them.
By clicking on the different WPs you can find out more about the respective tasks and objectives.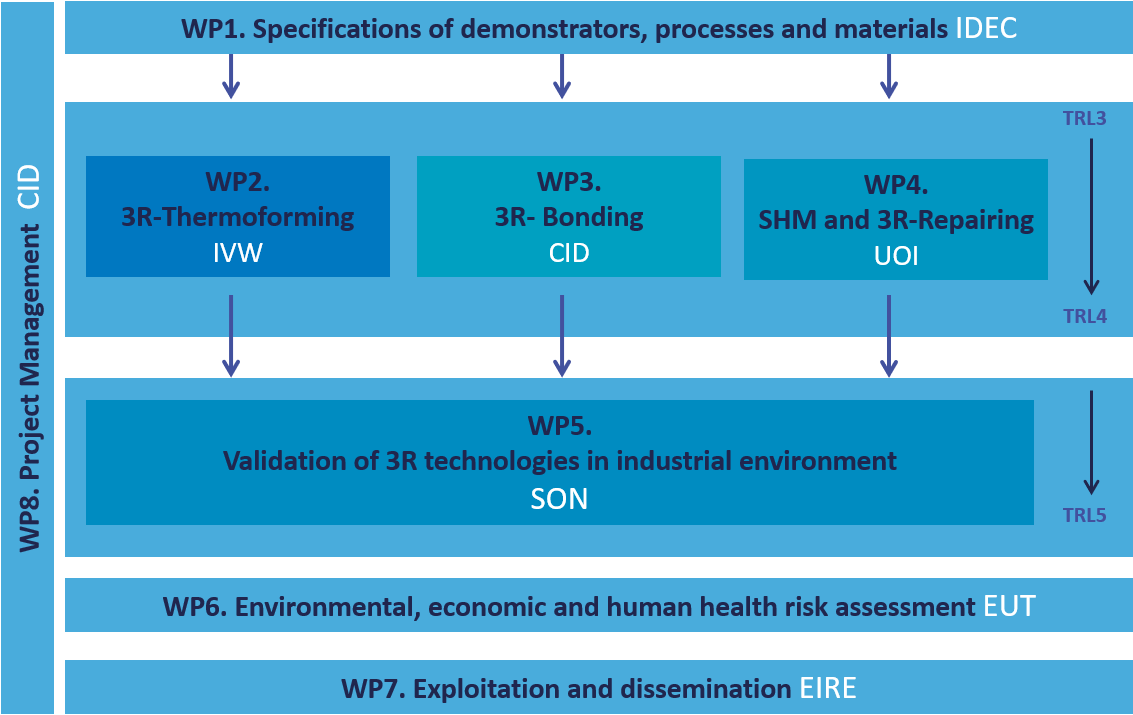 Work package 1: Specifications of demonstrators, processes and materials
Lead: IDEC


Objectives:
To define the demonstrators taking into account the needs to demonstrate thermoforming, bonding and repair technologies.
To define the requirements (properties) for each demonstrator.

Coupon level
Sub component level

To define raw materials to be used (resin, fibers, protections) and their properties.
To define testing methods to evaluate the performance and functionalities of demonstrators in order to define the standardisation needs and assessment procedure:

Coupon level
Sub component level
Work package 2 – Thermoforming
Lead:
IVW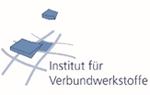 Objectives:
Study of 3R laminate manufacturing and development of a thermoforming process for vitrimer based composite materials.
Resin modification to meet process requirements
Investigation of 2 processing strategies for flat laminate production:

RTM: infusing reinforcement textiles with 3R resin
Stacking 3R prepregs with reinforcement textiles, then pressing the stack to laminates

Thermoforming of 3R laminates

Discontinuous compression molding (DCM) for webs.
Continuous compression molding (CCM) for longitudinal stiffeners.
Work Package 3 - Development of 3R-Bonding technologies
Lead:
CIDETEC
Objectives:
Overall objective: to develop two different bonding processes for 3R composite laminates (adhesive bonding and welding)
Technical objectives:

To develop a 3R adhesive
To develop the skin and transverse elements of the Fan-cowl based on 3R resin by RTM
To develop the nose element of the leading-edge by
To adapt SQRTM process to produce laminates with 3R surface
Required tool development for each of both bonding processes
Work Package 4 - SHM and development of 3R – Repair technologies
Lead: UOI

Objectives:
Main objective: Method development for the repairing of delaminations and debondings in 3R composites

Assessment of the knock down effect at several levels
      Direct mechanical Evaluation
Application of SHM in relation to production processes & chemical bonding techniques
     Indirect Evaluation
Development and optimization of the repair conditions for each type of generated damages.
SHM application to determine best repair conditions.
Predict with the simulation tools such structures damages and mechanical properties.
Work Package 5 – Validation in industrial environment
Lead:
SONACA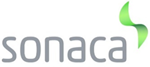 Objectives:
Processes to manufacture the elements:

SQRTM (nose)
RTM (skin and transverse stiffener)
Thermoforming (webs and longitudinal stiffener)
Validation: NDT & dimensional control
Bonding processes to assemble the sub-elements:

Adhesive bonding (fan-cowl)
Welding (leading-edge)
Validation: NDT & dimensional control, ILSS, Impacts, Pull-out
Offline damage assessment
Online damage assessment
Repair
Validation: Damage assessment
Work Package 6 - Environmental, economic and human health risk assessment
Lead: EURECAT

Objectives:
To assess the non-technological benefits of the developed solutions:
To determine the environmental profile of AIRPOXY solutions by a Life Cycle Assessment (LCA) addressing eco-design criteria and end-of-life aspects in order to demonstrate:

Reductions related with the fuel consumption and CO2emissions
Reduction of the quantity of landfilled waste
The quality of material obtained and the environmental implications associated
Recyclability and reuse enhanced properties of AIRPOXY products

To evaluate the Life Cycle Cost (LCC) of AIRPOXY solutions and help in selecting the most suitable option managing simultaneously environmental and economic impacts:

Reduction of manufacturing costs of composite parts in 37% compared with autoclave processes
Reduction of assembly costs of composite parts in 53% compared with adhesive bonding
Reduction of repair costs of composite parts in 50% compared with patching process
Significant reduction process cost (to be estimated)
Reduction in 90% the labour costs

Assessment of the human health risk of the new processing technologies and the new resins
.
Work Package 7 - Exploitation and Dissemination
Lead: EIRE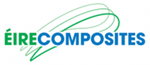 Objectives:
Coordination of communication and dissemination of project outputs, approaches and results to target groups, users and communities;
Development of training programs for new employees who will operate on new materials and machinery;
Management of exploitation of project results and guarantee sustainability, including next steps for the development, industrialisation and certification roadmap;
Generation of business model canvas to identify new supply chain and business models;
Generation of commercialisation roadmap and business plan for selected business cases.
Standardisation and certification activities to facilitate acceptance and utilisation of AIRPOXY solutions in the aeronautic sector
Work Package 8 - Project Management
Lead: CIDETEC

Objectives:
Ensure the high quality of work performed in the project
Monitor contractual commitments
Ensure a good coordination between partners
Manage project risks