Consortium
The AIRPOXY consortium includes eleven partners from six European countries representing four research technology organizations, six industrial companies (three of which are SMEs), and one standardization organization. The consortium is led by CIDETEC which has a strong track record of participating in and managing European-funded projects.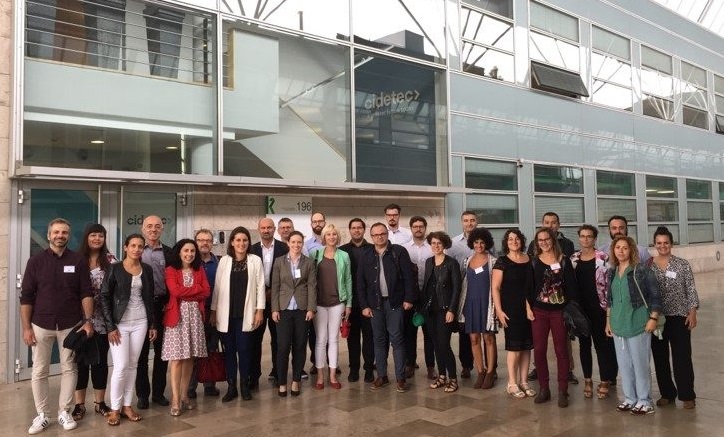 Fundacion CIDETEC
Spain
CIDETEC is a private, non-profit organization for applied research that integrates three international reference institutes in the fields of energy storage, surface engineering and nanomedicine.  Founded in 1997 as a Technological Centre CIDETEC is part of the Basque Science, Technology, and Innovation Network. To date, CIDETC has a strong participation in European Union projects including 34 projects with in the 7th Framework Program and 31 projects within Horizon 2020.
Role in AIRPOXY:
CIDETEC is the coordinator for the AIRPOXY project and leader of Work Packages 3 and 8. Additionally, it has developed a novel dynamic epoxy resin which combines the advantages of thermoset and thermoplastic resins. Called "3R" because of its Re-processability, Reparability and Recyclability properties it is based on already existing commercial components. In addition to its role as the coordinator of AIRPOXY CIDETEC is responsible for adapting and optimizing 3R to meet the environmental, mechanical and temperature constraints dictated by users within the aeronautical sector. It is the technical lead on the formulation, fabrication, characterisation and development of 3R resins, adhesives and composite panels for thermoforming. Additionally, CIDETEC will support industrial partners in their use of the 3R technology.
Institut für Verbundwerkstoffe

GMBH

Germany

The Institute for Composite Materials, IVW, is a non-profit research institution located on the campus of the Technical University of Kaiserslautern (TUK). IVW works to develop the future applications of composite materials in multiple sectors including aeronautics. They focus on the technical application of composites and can support the entire research, development, and deployment process tailored to meet individual product requirements. When possible, and applicable, IVW works to transfer its find and expertise into industrial applications, the education of engineers, and spin-off companies.

Role in AIRPOXY:

IVW is the leader of Work Package 2,  and within AIRPOXY it will investigate the influence of process parameters on the thermoforming process of 3R composite. It will work on developing the thermoforming and joining process of 3R composites, and directly manufacture fully impregnated 3R laminates via continuous compression molding.
Coexpair SA
COEXPAIR is a 12 years company, it counts today more than 20 people, including 12 engineers. It covers European and Middle East market and is implanted in Belgium. COEXPAIR's technologies are RTM and SQRTM. And many development platforms are handled by COEXPAIR: Catia v5, 2 presses, plate tools, RTM advanced sensors,…
Expectations in AIRPOXY:
New generation materials
New composite structures combining thermoset properties with thermoplastics processability
New joining processes (i.e. welding, adhesive bonding)
New repair methodologies for typical damages (delamination…)
Recycling capacity
EURECAT
Spain
EURECAT's main Research and Technology (RTO) centre is located in Catalonia and it is the second largest private research organization in Southern Europe. EURECAT is involved in 90 EU projects, of which 35 are coordinated by EURECAT. Industrial, digital and biotechnological areas are the main fields where EURECAT is involved.
Role in AIRPOXY:
EURECAT is the leader of Work Package 6, where it will perform life cycle assessment, economic assessment, and human health risk assessment of the AIRPOXY technologies. EURECAT will also be responsible for optimising and adapting the RTM (Resin Transfer Moulding) process to produce structural parts in composite materials using the innovative 3R resin developed in the framework of the project.
ÉireComposites Teoranta
Ireland
ÉireComposites is an innovative design, manufacturing and testing company, involved in lightweight, high performance fibre-reinforced composite materials. It has an international blue-chip customer base of over 70 companies in aerospace, wind energy, marine, Formula 1 racing and general automotive sectors. The company delivers composite components and assemblies for international aerospace programmes and participates in important European Union R&D programmes in the aerospace sector.
ÉireComposites has significant intellectual property in manufacturing and tooling for composite materials and has managed over €20m of EU FP6, FP7 and H2020 projects relating to composite materials for wind turbine blades, Aircraft Structures and Space Launchers. It was established in 1998 and has 60 employees.
Role in AIRPOXY:
ÉireComposites is the leader of Work Package 7 concerning the dissemination and exploitation of the results associated with AIRPOXY. As an aerospace end-user for this project, it will specify the aerospace products which can be more effectively manufactured using the AIRPOXY material. It will manufacture demonstrators that will be used to validate the AIRPOXY technology in an aerospace context. ÉireComposites will both perform, and aid other partners in performing, destructive and non-destructive testing on composite laminates, breadboards and demonstrators to verify that the parts meet aerospace requirements.
Ingeniería y Desarrollos en Composites, S.L
IDEC, after 20 years of evolution, is positioned as a key reference in providing the market with complete solutions in the field of out of autoclave advanced composites.
Design, validation, development, prototyping, industrialization; these are our strengths to satisfy our clients.
Expectations in AIRPOXY:
To develop an industrrial process with the 3R resin that make the company more competitive by means of :
Reduction of manufacturing costs
Reduction of scraps thanks to reparability of defective parts
Société Nationale de Construction Aérospatiale SA
Belgium
SONACA has nearly 100 years of experience in the aerospace sector. It is a main global player in aerostructure (Design & Build and Build to Print), services, innovation, space and defense. SONACA's core business is the development, manufacturing and assembly of aerospace wing and fuselage structures and their associated subsystems. It is a Tier 1 supplier of that type of structures to all major aircraft manufacturers.
Role in AIRPOXY:
SONACA is an industrial partner within AIRPOXY and is the leader of Work Package 5. As an industrial partner, it will contribute to defining requirements, along with the manufacturing and testing of prototypes. In WP3 SONACA will contribute to the development of welding technologies, and as the leader of WP5 it will manufacture the nose of the leading-edge demonstrator and test the assembled leading-edge sub-elements
University of Ioannina
Greece
The Composite & Smart Materials Laboratory, CSML, is part of the Mechanics and NDE Division of the Department of Materials Science and Engineering at the University of Ioannina. The laboratory's role is to provide education and research in the field of Advanced Composite Materials and Structures. CSML places special emphasis on Non-Destructive Evaluation (NDE) and Multiple Smart Functionalities. In the area of destructive evaluation, emphasis is placed on the durability of composite materials (wear behaviour, mechanical/thermomechanical characterization, environmental loading, fracture and fatigue).
CSML research activities include hierarchical composites and interfaces, thermoelectric composites, biodegradable micro/nano-composites: manufacturing and processing, Smart multifunctional materials and structures, and novel NDE and process monitoring techniques development based on thermal, optical and electrical stimulation/response of the interrogated structure.
Role in AIRPOXY:
CSML is the leader on Work Package 4 in AIRPOXY. It will implement Structural Health Monitoring (SHM) techniques in order to detect in service damage and analyse the damage tolerance of the new 3R composites. To achieve this, CSML will test various specimen geometries for different levels of damage (matrix cracking, delamination, etc) in order to develop and optimize the SHM techniques using a variety of non-destructive  methods. In the demonstrator level, CSML will integrate the developed SHM techniques for validation and further optimization.
Altair Engineering France SARL
France
Altair Engineering France is a subsidiary of Altair Engineering largely involved with research and development projects. Its parent company Altair Engineering is a multinational company with more than 30 years of experience in product design, engineering software and "grid computing" technology. Altair develops technologies which facilitate the analysis, management and visualization of technical and administrative data to improve the capacity of innovation and decision-making for its customers. As a company they focus on simulation-driven innovation.
Role in AIRPOXY:
Altair will provide simulation expertise to the AIRPOXY consortium. It is involved in the development three different technologies within the project: thermoforming, bonding, and repairing the 3R resin composite. Altair will implement a dedicated material law for 3R resin composite to simulate and optimize thermoforming process. It will also develop a modelling methodology for bonding and repair processes.
ARTTIC SAS
France
ARTTIC SAS is an independent company within the PNO Consultants Group. ARTTIC has extensive experience in managing large scale research, development and innovation (RDI) projects, and has been a part of more than 400 large RDI projects and networks in European Commission Framework Programmes starting with FP7 through Horizon 2020. As a European leader in consulting and management services for research and technological development ARTTIC helps clients translate strategic plans into effective competitive operations.
Role in AIRPOXY:
ARTTIC is involved in Work Package 7 and 8. It will support dissemination and communication activities, monitor data and intellectual property rights management and facilitate communication between AIRPOXY's partners using adapted tools. ARTTIC will work closely with CIDETEC to support the daily management and administration of the AIRPOXY consortium.
Asociación Española de Normalización
Spain
The Spanish Association for Standardization, UNE, is legally designated as the National Standardization Body of Spain. It is the national representative and member of the European (CEN and CENELEC), International (ISO and IEC) and Pan-American (COPANT) Standards Organizations, and member of the European Telecommunications Standards Institute (ETSI).
Formally, it is a non-profit-making, private, independent and multisectoral organisation, recognised at National, European and International levels. Through its the development of technical standards UNE helps improve the quality, competitiveness and innovation of companies, products and services.
Role in AIRPOXY:
UNE will advise, manage, and develop all activities within AIRPOXY related to standardization.